Previous Work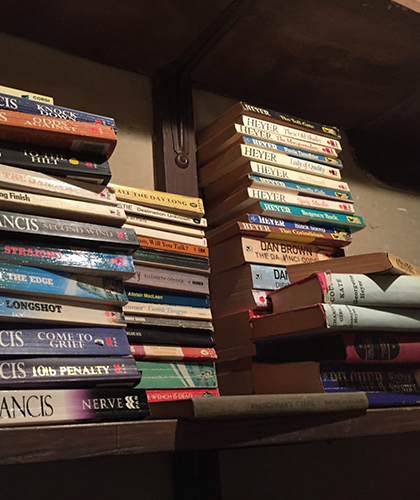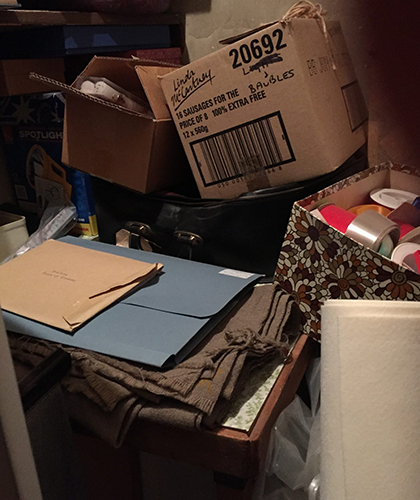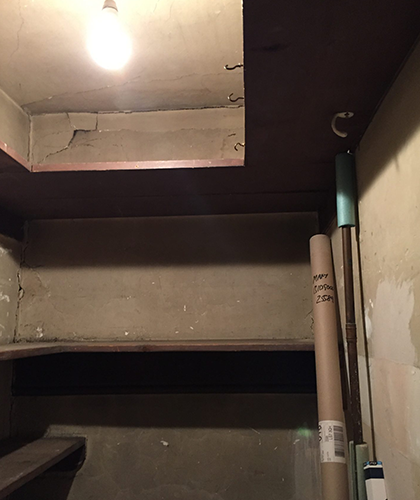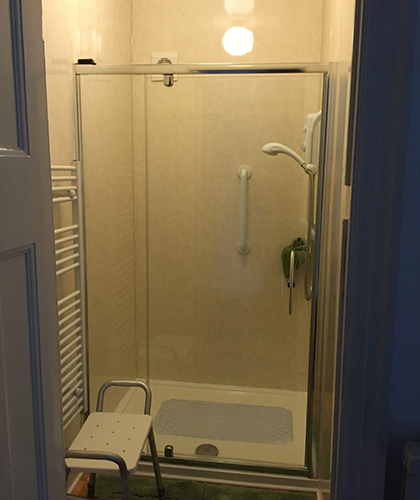 Decluttering to add value to your home and make your life easier!
Additional shower room needed!
This particular job had a clear deadline! The bathroom company were arriving soon and, as with many older houses, this large walk in cupboard had been used for a very long time to store a lifetime of belongings from books to old toys, lampshades and so on. The shelves were very high so that made it quite difficult for the client to start the job.
I started by looking around for additional storage for the things the client wanted to keep because, believe it or not, decluttering is more about what we keep and value than what we throw away! We created additional storage by rearranging another part of the house, this worked well because we also decluttered that part of the house, two jobs in one!  Once we got started, it became clear that the space created was quite large and the idea to create an extra shower room would work well. Unwanted items were gifted to charity much loved books were re-homed elsewhere in the house and probably read because they were more accessible. Other items were boxed to either sell or gift to relatives.
A little while later the client asked me back to inspect the new addition. Wow what a transformation. The new room made the client's life easier and, as I mentioned, added value to the house! Often in houses there are glory holes and hidden spaces which we just don't quite know what to do with. Turning your attention to these and decluttering can help you see them in a different light. Why not call Clutter Therapy for some help?
Declutter in preparation for downsizing
Downsizing
This particular job was for a couple who were moving to a smaller house. They had been living in their home for a long time and had gathered lots of things over their life there.
It was beginning to be difficult to get around the house so we started by decluttering the most important areas, like the lounge, kitchen and dining room. This made the space look bigger and ready for viewings by prospective buyers and estate agents.
Once completed it was very rewarding as the clients were able to move around the house more easily and they enjoyed using items that had long been forgotten. I also helped them once they had moved into their new home, to hang pictures and further declutter.
They are now very happy and enjoying their new home.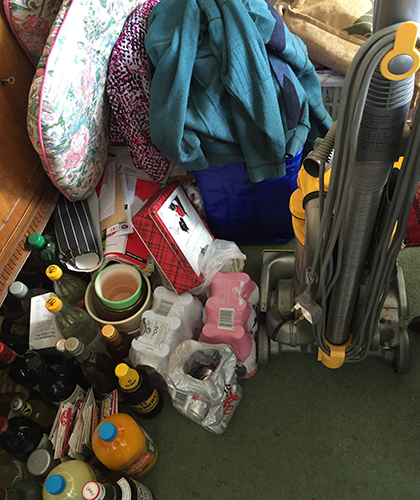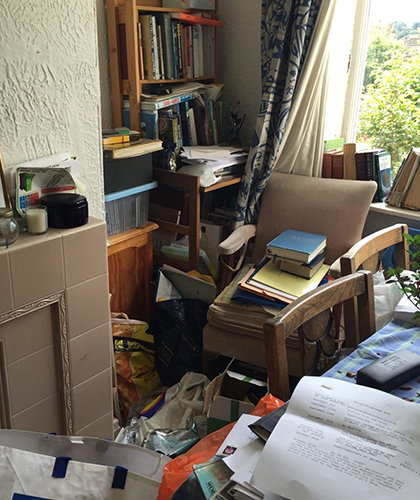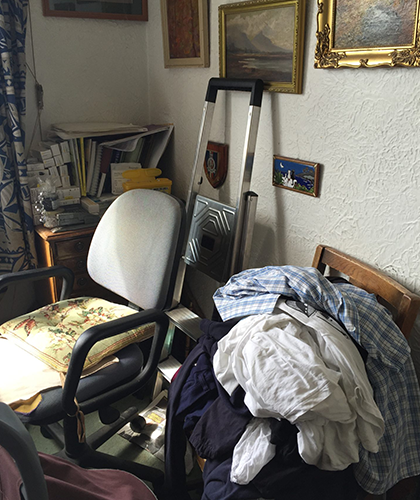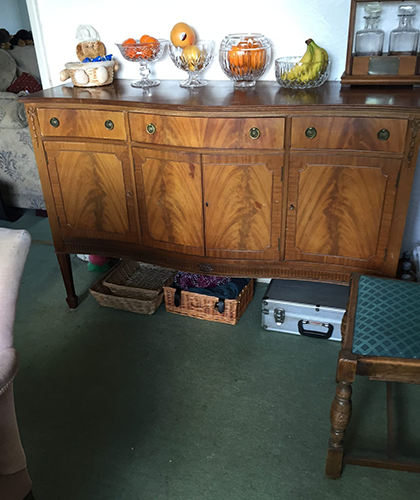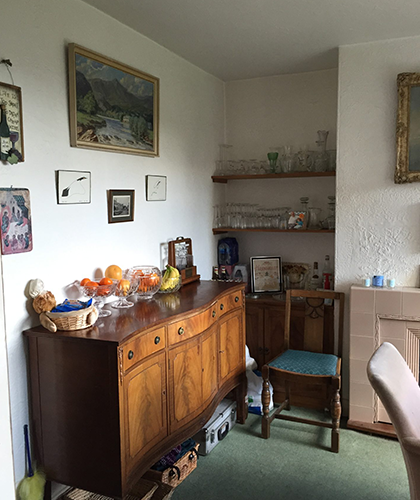 Testimonials
I cannot recommend Lesley enough. I've had a fantastic time sorting my house out with her over four sessions in preparation for the arrival of baby number three. I feel like I have a new kitchen, all toys and activities for my oldest two are now tidy but readily available and we have unpacked and hung all the newborn baby clothes in readiness for the little ones arrival.
Lesley Strikes the perfect balance between being professional, compassionate, friendly and non-judgemental and even spent some time with my three year old playing Paw Patrol while I made lunch.
If you're overwhelmed by the amount to do at home don't hesitate to contact Lesley. She is a breath of fresh air and I'm already looking forward to her coming back soon to help me tackle the attic!
J. Taylor
Jenny Turner
06/03/2020
Submit a Review
Clutter Therapy
Average rating:
5 reviews
Sep 5, 2017
Wardrobe Detox
Lesley came to my house for a wardrobe decluttering session. I felt instantly at ease and comfortable and we chatted all the way through.
Lesley was great at explaining the process. I didn't feel pressured to get rid of anything at all, even though I did end up with a large bin bag for charity, one for the homeless and half a full clothes rail to sell! Lesley was amazing at reading my body language and my attitude towards my clothes.
I sold three dresses within 24 hours and made nearly £100. I've since sold about 8 items and made £150! Money I've put towards a new Hoover and holiday that was just hanging and not being worn.
Lesley gave me some fantastic tips with storing, folding and hanging my clothes that I never knew and work great.
Absolutely recommend Lesley's help in the home, we'll definitely be asking her to come back and tackle the dreaded garage!
Sep 5, 2017
Lesley is fantastic!
I have been recovering from serious mental health issues for nearly seven years now and still trying to come to terms with a Bipolar Affective Disorder diagnosis. Recently I felt like I had had a bit of an epiphany and could suddenly see the amount of clutter and 'stuff' in every room in the house. I was at a loss as to how to go about sorting it out and I needed help - Lesley came to the rescue!

Firstly she came to the house to have a chat and discuss what decluttering issues I had and what I hoped to achieve. She told me how she could help and how she worked - which sounded amazing - so we arranged a date for her to come and start. I'd decided to tackle my wardrobe first and chest of drawers. I was initially a little nervous but I needn't have been - Lesley is the most understanding and supportive person and took the process at my pace. It transpired it was a bit of a journey (and six dustbin bags later) - I did get emotional but Lesley was ready for that armed with respect, understanding and tissues.

The result - I can now see all the clothes in my wardrobe and they all fit me! My drawers - once so stuffed full they couldn't be closed now house clothes that fit me, the drawers close and I have a spare drawer! The new way of folding my clothes is also a revelation..... You can completely trust Lesley she really does get to the heart of the matter with respect, understanding, professionalism and compassion. She will empower you to change the way you think about your 'stuff.'
Sep 5, 2017
Domestic Declutter
Clutter Therapy came to help me clear a large storage cupboard, which was filled with years of clutter. They separated the things I wanted to keep and organised storage in other parts of the house, boxed up valuables for possible sale and took the rest to charity. I now have a lovely new walk in shower room where the old cupboard was. Great job!


Sep 5, 2017
Wedding Organisation!
Lesley from Clutter Therapy helped me to organise aspects of my wedding. I wanted my dream dress, I had been carrying a magazine around forever, with a picture of the dress! Never realising just how long before the wedding these things had to be organised. I also didn't understand about registering the marriage. I asked for help and advice. She quickly tracked down the designer, found a shop carrying the design and the correct size, (phew), organised a fitting and arranged for a deposit to hold the dress. Appointments were made for the registration. All within a very short time. It was quite something to witness! Thank you, Lesley, for your tenacity and quick thinking. The response on the day from my now husband was awesome!
Sep 5, 2017
Awesome Job!
Lesley helped me with decluttering my elderly parents house when they were downsizing to a small flat.

They obviously had a lifetime of things which held sentimental value as well as an enormous amount of things that there wasn't room for in their new flat. Lesley's empathy, kindness and sympathetic approach in helping them sort through everything was endless. They even had quite a lot of laughs along the way, which considering how stressful this situation could have been was amazing.

Lesley then staged all the rooms ready for house viewings which I think really helped with the sale of the house. Lesley also helped my parents when they had moved into their new flat. She organised all their furniture and pictures to show them off to their full potential, but importantly being mindful of the safety issues for reduced mobility.

I honestly don't know how we would have managed all of this without her.